Special Olympics Chairman Joins Cedar Lane School Athletes for Challenge Day 2017
On June 2nd, Special Olympics Howard County and Cedar 
Lane School were honored to have Special Olympics Chairman Timothy Shriver join us for MATP Challenge Day and for the signing of the official partnership between the Howard County Public School System (HCPSS)  and Special Olympics Howard County.
The partnership formalizes the relationship SOHO has had with Cedar Lane School and expands opportunities to the entire HCPSS. SOHO will continue to donate and support Cedar Lane's Challenge Day each year by providing equipment for the Motor Activities Training Program (MATP), athlete shirts, medals and volunteers. In addition, we will offer professional development support by providing information about SOHO programs to HCPSS Special Education teachers to share with families at IEP meetings. SOHO will advocate for Cedar Lane School MATP athletes to compete at SOMD state games. For more information and photos from Challenge Day, see http://www.hcpss.org/news-posts/2017/05/special-olympics-chairman-joining-cls-challenge-day-2017/.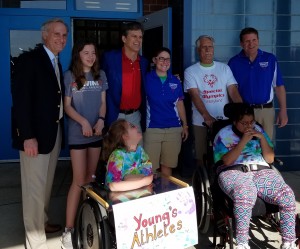 Fall Registration Open
Registration for fall sports (Cycling, Distance Running, Flag Football, Powerlifting, Soccer, Tennis and Volleyball) opens on June 26th at 10:00 p.m.. Click on Become an Athlete/Register for a Sport above to register. A reminder that all athletes must have a current medical on file in order to register and participate in any SOHO activity. These must be updated every three years.
Powerlifting and tennis are limited on the number of athletes we can accommodate. Once the number is reached, all subsequent registrants will be placed on a waiting list. Note there is no Fitness program in the fall and Quest training is only open to those who register for Powerlifting and plan to compete at state games.
As always, Athletes registering for a team sport must review the Team Sports Participation Policy found under Policies on the SOHO web page. They must also commit to attending state games. Athletes may only register for one team sport a season.
Registration for bowling will begin on August 15th. We will offer two sessions to accommodate more athletes. The first runs from October to December and the second from January to March. Athletes will be able to sign up for just one of these sessions.
SOHO Night at Oriole Park
Friday, July 21st, will be SOHO Night at Camden Yards to watch the Orioles play the Houston Astros. It's fireworks night! We have 85 tickets in Section 71. Tickets are $20.00 each (face value $25!) To reserve your tickets, contact the office at 410-740-0500 or email info@somdhc.org. First come, first served.
SOHO Merchandise for Sale
Looking for a birthday or Valentine gift or just want to show your SOHO pride? We have some merchandise in the office for sale.These items will also be available at the Inspiration Walk.
Special Olympics Charm Bracelet = $15.00
Pen = $2.00
SOHO Navy T-shirt (short sleeved) = $10.00
SOHO Navy T-shirt (long sleeved) = $12.00
Ceramic Coffee Mug = $8.00
Travel Mug = $8.00
Ice Scraper = $2.00
Toiletry Bag = $5.00
Golf umbrella = $50.00
Items can be purchased in the office. In addition, SOMD "Be Brave" Bravelets and other items (necklaces, watches, pillows, scarves) are available at the Bravelets web site..