Giving Tuesday

You've heard of Black Friday, Small Business Saturday, and Cyber Monday. On Tuesday, December 1st, people from across the country come together to celebrate generosity & give something back on Giving Tuesday (#GivingTuesday). Last year, SOHO received donations of $1,500 on Giving Tuesday. This year, we would like to raise $2,750 which would provide 10 athletes with a full season of training and competition.
In addition, we would like to invite more people to get involved with our organization as volunteers and hope to get 15 new volunteers.
To make a donation on Giving Tuesday, CLICK HERE and select "Specific SOMD Local Program" and Howard County. Can't wait until Dec.1st to donate? We've got you covered. Once you click on the link above and type in the Personal Message section that you want your gift to count towards the Giving Tuesday Campaign Goal.
Famous Dave's in Columbia Crossing will donate 15% of the food and non-alcoholic beverages purchased from 4:00- 9:00 p.m on Giving Tuesday when you bring this 2015 Famous Dave's Columbia Flyer. Come on out for a nice dinner for a good cause.
Finally, Be Brave bracelets purchased on Giving Tuesday will result in 20% being donated to SOMD vice the usual 10%. These come in all styles and make great gifts. To order, click here.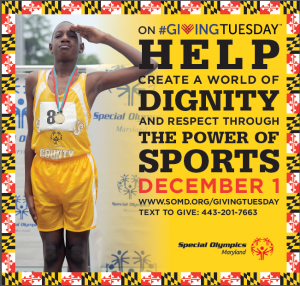 Applications Being Accepted for Outstanding Student Volunteers
Through the generosity of three families, Special Olympics Howard County will award three scholarships to outstanding student volunteers who have been committed to the Special Olympics Howard County program as volunteers and advocates of the athletes. High school seniors and college students are eligible to apply.
The Jackie Burk Memorial Award for Outstanding Student Volunteer for Special Olympics Howard County ($1500) was created in 2004 by Jack and Linda Burk in memory of their daughter, Jackie, a special friend and volunteer to Special Olympics Howard County. The Allan Homes Award ($1000) was established in 2005 by Allan and Kathy Waschak. Allan is a member of the Special Olympics Howard County management team and aquatics coordinator. The Kathy Lindner Memorial Award ($500), in memory of Special Olympics Howard County's first volunteer coordinator, was created in 2012. Kathy was a dedicated volunteer in a number of sports, including the annual softball invitational.
Interested students must complete an application, provide at least one recommendation from a Special Olympics Howard County coach, management team member or sports coordinator, and write a 500 word essay about their experiences as a volunteer. The application can be found by clicking here.
Completed applications can be mailed to Special Olympics Howard County, 8970 Route 108, Suite A-1, Columbia, MD 21045, ATTN: Scholarship Committee or emailed to info@somdhc.org. Applications must be received by April 1, 2016. Questions should be addressed to info@somdhc.org or by calling the SOHC office at 410-740-0500.