SOHO Representatives to Team Maryland for 2018 USA Games 
SOHO will be represented on the Team Maryland Management Team with Diane Mikulis serving as the Assistant Head of Delegation. Al Mineart will be on the Support Staff for the 2018 USA Games in Seattle, WA, next July.
Three Howard County coaches have been selected to be part of Team Maryland's coaching staff.
Tennis: Nancy VanWinter (Head Coach), Jack Healy (Assistant Coach)
Powerlifting: Kathy Barrett
Ten Howard County athletes will be participating at the 2018 USA Games in Seattle, Washington in July 2018.
Athletics: Charles Gaines
Bocce: Daniel Larrimore
Golf: Level 2 :Julia Phillips (athlete) & Jim Bourdon (unified partner)
Powerlifting: Catherine Gruss and Kenny Long
Swimming: Jena Jones (Level 3), Zach McKay (Level 2) and Sean Taneyhill (Level 3)
Tennis: Edie Daniello
Special Olympics Chairman Joins Cedar Lane School Athletes for Challenge Day 2017
On June 2nd, Special Olympics Howard County and Cedar 
Lane School were honored to have Special Olympics Chairman Timothy Shriver join us for MATP Challenge Day and for the signing of the official partnership between the Howard County Public School System (HCPSS)  and Special Olympics Howard County.
The partnership formalizes the relationship SOHO has had with Cedar Lane School and expands opportunities to the entire HCPSS. SOHO will continue to donate and support Cedar Lane's Challenge Day each year by providing equipment for the Motor Activities Training Program (MATP), athlete shirts, medals and volunteers. In addition, we will offer professional development support by providing information about SOHO programs to HCPSS Special Education teachers to share with families at IEP meetings. SOHO will advocate for Cedar Lane School MATP athletes to compete at SOMD state games. For more information and photos from Challenge Day, see http://www.hcpss.org/news-posts/2017/05/special-olympics-chairman-joining-cls-challenge-day-2017/.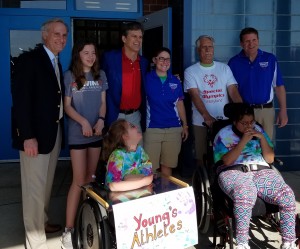 Bowling Registration Now Open. Registration for Fall Sports Closed
Registration for bowling is now open. Note that there will be two bowling sessions this year - October 8th to December 17th and January7th to March 11th. Athletes can only register for one session. Bowling registration will close on September 15th. Click on Become an Athlete/Register for a Sport above to register.
A reminder that all athletes must have a current medical on file in order to register and participate in any SOHO activity. These must be updated every three years.
Registration for fall sports (Cycling, Distance Running, Flag Football, Powerlifting, Soccer, Tennis and Volleyball) is now closed.
SOHO Merchandise for Sale
Looking for a birthday or Valentine gift or just want to show your SOHO pride? We have some merchandise in the office for sale.These items will also be available at the Inspiration Walk.
SOHO Backpack = $45.00
Special Olympics Charm Bracelet = $15.00
Pen = $2.00
SOHO Navy T-shirt (short sleeved) = $10.00
SOHO Navy T-shirt (long sleeved) = $12.00
Ceramic Coffee Mug = $8.00
Travel Mug = $8.00
Ice Scraper = $2.00
Toiletry Bag = $5.00
Golf umbrella = $50.00
Items can be purchased in the office. In addition, SOMD "Be Brave" Bravelets and other items (necklaces, watches, pillows, scarves) are available at the Bravelets web site..