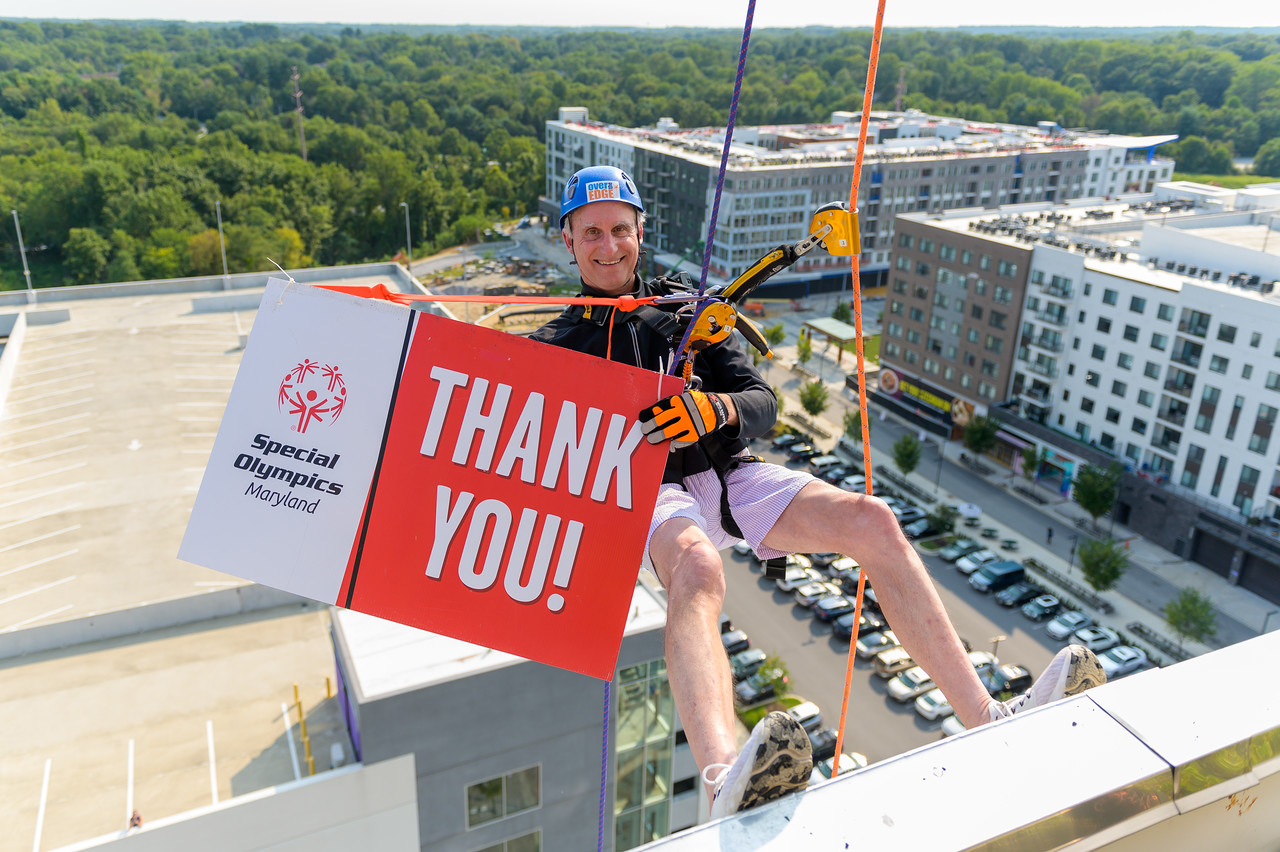 Our second Over the Edge event, presented by SOHO and the Howard Hughes Corporation, held on September 16th and 17th was a big success with 101 rappelers who raised over $165,900! WBAL-TV's Tommy Clark bravely stepped over and was featured on both the 6:15 p.m. and 11:00 news.    If you'd like to support all the brave souls that went Over the Edge, click here to make a donation.
Thanks to our cheerleaders and DJs Ron Hutchinson and Kris Stone who created a very festive atmosphere and to Emcee Jeff Abel who introduced and interviewed each of the rappelers. Also thanks to our Rope Team, the volunteers who manned the registration and swag bag tables, and the gear return team.
Special thanks to our Presenting Sponsor Howard Hughes Corporation and all our sponsors listed below. Pictures of the event can be found here.
If you missed this opportunity and want to rappel next year (or rappel again!), mark your calendar for September 15th and 16th, 2023. Register early as slots fill up fast! The link will be posted on our website soon.
Our deepest appreciation to our Over the Edge Sponsors. Because of their support and the support of 101 rappelers, we have raised $165,900 to date. These funds will enable us to continue to provide a year-round sports and competition program in 25 sports programs.

ROPE SPONSOR

Howard Hughes Corporation

 TEAM BUILDER SPONSORS

Allan Homes
ARCO Design Build
Pioneer Services
Manekin
KO Public Affairs
Transwestern
Sunrise Safety Services

FEARLESS LEADER SPONSORS

Environmental System Associates
Dembo Jones
SWBC Mortgage
Mackenzie
Bohler Engineering
Downtown Columbia Partnership
Bus Boys and Poets
Tenable
Shipley & Horne
Columbia Association
Enterprise Community Development
Care First