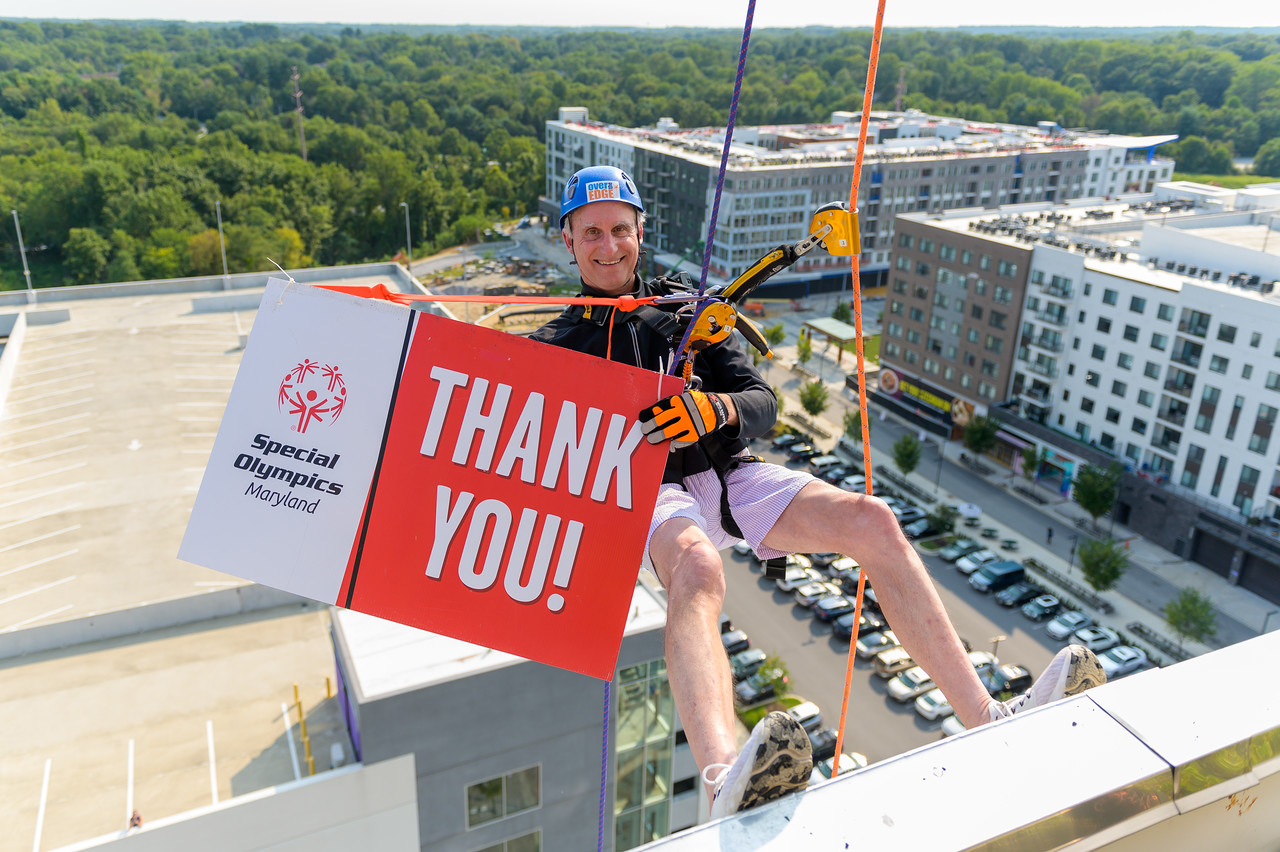 Go Over the Edge!
Be a part of Howard County's HIGHEST event ever and go Over The Edge for Special Olympics Maryland – Howard County. Rappellers will descend 12 stories of the highest building in Howard County: 6100 Merriweather. All funds raised support Special Olympics Maryland – Howard County:  the county's largest year-round organization devoted to sports training and competition for children and adults with intellectual disabilities. 
No prior rappelling experience is required. A professional team will be there to train and assist you the entire time.  If you want to face your fears, click here to register and start your fundraising.
Not interested in rappelling?  You can still help by making a donation to support the rappellers.  Click here to donate.  
Rise up as a leader in the local business community by being a CORPORATE SPONSOR which will help finance the cost of the event, ensuring that every dollar raised goes to support the 900 Howard County athletes with intellectual and developmental disabilities who participate free-of-charge in the over 20 sports programs offered by Special Olympics Howard County. For more information on becoming a sponsor, contact Cole Schnorf (CSchnorf@Manekin.com).
Special thanks to our Presenting Sponsor Howard Hughes Corporation and all our sponsors listed below. Pictures of the 2022 Over the Edge event can be found here.
Our deepest appreciation to our  2022 Over the Edge Sponsors. Because of their support and the support of 101 rappelers, funds raised will enable us to continue to provide a year-round sports and competition program in 25 sports programs.

ROPE SPONSOR

Howard Hughes Corporation

TEAM BUILDER SPONSORS

Allan Homes
ARCO Design Build
Pioneer Services
Manekin
KO Public Affairs
Transwestern
Sunrise Safety Services

FEARLESS LEADER SPONSORS

Environmental System Associates
Dembo Jones
SWBC Mortgage
Mackenzie
Bohler Engineering
Downtown Columbia Partnership
Bus Boys and Poets
Tenable
Shipley & Horne
Columbia Association
Enterprise Community Development
Care First