COORDINATORS:
Rookie Team — Kim Davis (kdavis420@gmail.com)
Veteran Team — Lisa Emmerling (lsedesigns@gmail.com)
Training Locations:
Cypressmeade Park (Rookie Team)
Cypressmeade Park (Veteran team) (click for directions)
Rocky Gorge Batting Cages (Rt 29 and Old Columbia Road, Laurel, MD)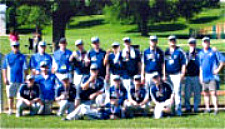 Special Olympics Maryland Howard County currently offers two opportunities for athletes interested in playing softball. Experienced athletes can participate on the veteran team, which is made up of individuals who have played softball for several seasons. Those who are new to the game are encouraged to join the Rookie Team, which is made up of athletes who have little to no experience playing softball.
The veteran team participates in several tournaments each spring.
Special Olympics Howard County hosts an annual Softball Invitation the third Sunday in May each year at Kiwanis Wallas Park in Ellicott City. More details can be found on the Softball Invitational homepage.