Coordinators: Janet and Walter Larrimore (JanetLarrimore@somdhc.org)
Training Times and Locations (January-February):
Thursdays, 6:30 – 7:30, Oakland Mills Middle School, Columbia
Sundays, 9:00 – 10:30 am, Centennial Park, Ellicott City.
Looking for a fun and easy outdoor sport for winter?  Try snowshoeing!  Snowshoeing offers athletes of all ability levels a great workout and a great way to enjoy the outdoors.  Athletes prepare for the Winter Games by building strength and endurance during the Thursday night exercise sessions and the Sunday morning practices at Centennial Park.  Even if there is no snow, we put on snowshoes and practice on the grass.  At competition, events range from 25M races to 800M races; we also do relays.  Athletes of all ability levels are welcome to join.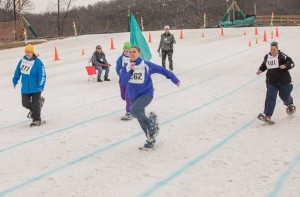 >Back to Sports Page